Friday, November 19, 2004
I have had a HUGE week.
In the last 7 days I have gone to an animal farm with the kids,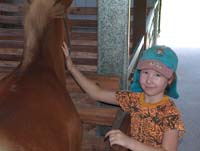 run the Grand Final
KROSTech
LAN for 2004, gone to church, finished updating the
church web site
and gone live, worked for clients for 3 days, worked on finances and web development stuff 1 day, edited, altered and finessed the church budget for 2005, done 2 exploratory meetings with potential new business partners, coordinated a series of meetings (to start next week) between one of my major clients and a software company whose products I think will benefit them, played running races with Jadeen and Erin, attended a Girls Brigade Nativity Play, taken Miranda to basketball and played basketball myself, hosted home group (at least I didnt have to prepare the talk this time as we watched a video on
Ian McCormack's
Near Death Experience) watched two movies with my
wife
, eaten 5 icecreams, drunk 3 cokes, 4 vanilla cokes, 2 XS, 3 Gatorade, 3 Bundaberg Ginger beer, 2 Kirks Dry Ginger Ale, 1 Solo, 2 coffees, 1 iced coffee, 1 rose and mango tea, some milk, apple juice and a lot of water, killed 3 large cockroaches, emptied the paddling pool and refilled it twice, fed my fish 4 times, written 1,900 words in my
novel
, written the longest sentence on my web site ever (this one), published 20 blog posts on various blogs, and my brain is struggling to remember the rest...
I have also read a bunch of others web sites but havent had time to make comments, I will get around all my normal ones over this next week and say hi.