Saturday, December 25, 2004
Closed for Christmas!
Normal programming will resume shortly.
Have a safe and Merry Christmas.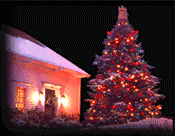 Hint - Do NOT leave the 3 yr old unsupervised with the 6 tear old's paints she got for Christmas!
Posted by: Unknown |
5:54 pm
|

The (all new) (not so) secret diary of my fantastic days
Welcome
Welcome to my personal blog. This is all the juicy bits about my personal and family life. The blogs linked below is where my family and friends hang out.
Advertisement
Syndicate Me
Previous Posts
My Blogs and Websites
Family
Friends
Links
Copyright Notice. All documents and text contained in this web site www.spyjournal.biz and sub pages is copyright material of Jethro Management (c) 2004 unless noted as being copyright material of someone else. No public reproduction of the content on this site in any form is permitted without express written permission.
Unless otherwise expressly stated, all original material of whatever nature created by Tim Miller and included in this weblog and any related pages, including the weblog's archives, is licensed under a Creative Commons License.