Wednesday, August 09, 2006
We have had a lot of old and new lately.
I have finished my contract with the coal mines for at least 6 months. I have started a new contract at QIC amongst a lot of other business that is coming our way at the moment. We have several people working for us on projects at the moment.
Here is a picture of my desk at QIC.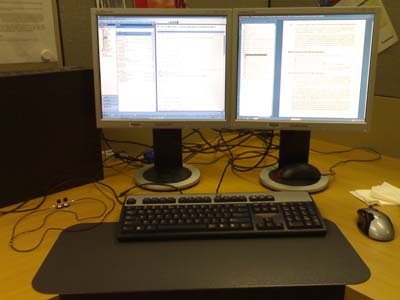 I got a new laptop recently as the old one died after a car hit a power pole near our place causing a power surge. So I have had the pain of having to set up and install applications. Still its nice to have a new one!
We recently upgraded our sound system.
We went from a home thearter in a box type of system with a a rear projection TV to a full home theatre. I bought:
Yamaha RX-V1600 7.1 dual zone THX AV amp
Sony DSTHD500 Digital Set Top Box

Samsung DVD HD860
Dali Speakers
Concept 8s
for the front,
Concept 1s
for the rears,
Center Concept
and
Sub Concept
Benq PE7700 DLP Home Theatre Projector
2C See IT Projector Screen
I have used
Pure AV HDMI cable
for component internconnet
and 40 metres of speaker cable at $6.50 a metre.
Then I threw in a Soniq 19" LCD TV for the kids to replace the little old 34 cm TV.
Now go and add all the retail prices up! I paid a
lot
less!